The Physicians Wealth Management Group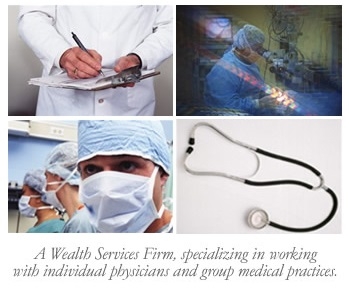 We specialize in helping our Physician clients to help achieve their objectives by:
Developing Sound Asset Protection Strategies
Reducing Personal and/or Practice Income, and Estate Taxes
Helping Increase Retirement Income
Helping Reduce Health Care Costs
Helping Increase Employee Benefits (Pension/401(k) Plans)
Planning for Business Succession and/or Exit Strategies
Balancing Return potential while managing risk
Lessening overall risk to Family Income in the event of death or disability
Just as most Physicians are specialists, what we have discovered is that most prefer to work with experts that not only understand their personal situation, but who also are proactive in developing and implementing the strategies required to remedy them.
Finally, we believe that strategic financial planning is a process. As our client's circumstances change, so do their financial objectives and the strategies necessary to meet their goals.